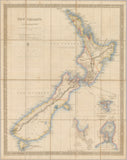 There are three inserts - Port Nicholson, Town of Wellington and Chatham Islands. The North Island is "New Ulster", the South Island is "New Munster and Stewart Island is "New Leinster". "Cape Ortegal" (nearly the antipodes of Cape Ortegal in Spain) is shown just South of Banks Peninsula.

Cartographer : Alex Findlay
Date : 1845
Dimensions (mm) : 408 x 515 (original map folded in a slip case :: 91 x 143). This reproduction size :: 378 x 477
Engraver : Alex Findlay
Place : London
Publisher : R.H. Laurie and Co.